today we went to Holt Lowes (see their website here for more) to see how far the destruction of the woodland has proceeded. this land, a remnant of similar heathland covering the holt-cromer ridge since the bronze age, was productive common and heath once, allotted to the poor for grazing animals; the gorse and heather cut regularly and used for firewood. since that use stopped, and also since rabbits have been controlled by myxomatosis, it has reverted to scrub woodland, of oak and silver birch, and the change of flora threatens the rare and special fauna, including natterjack toad and nightjar. as a heath with areas of wetland it supported varieties and species more common in devon than in norfolk. for several years now small areas have been cleared of trees and in parts the gorse cut regularly with a machine.  now almost all the remaining trees are to be cleared and the topsoil taken off, to discourage regrowth, which recently has been poisoned in the already cleared areas. because the heath is no longer used it is almost impossible to reproduce the suppression of woodland achieved by heavy mixed grazing, traditional burning and furze cutting. a few cows or sheep will not have the same effect. so it is hard to see how they will maintain the tree suppression.
a grim sight greets us inside the gate. stump grinding and tree felling and heavy machinery reduce pretty winding paths and little ups and downs to one muddy hillside.
even this dry peaty soil will churn up into a bog when the winter comes
we can't find our old path and trip over roots and branches strewn around the place.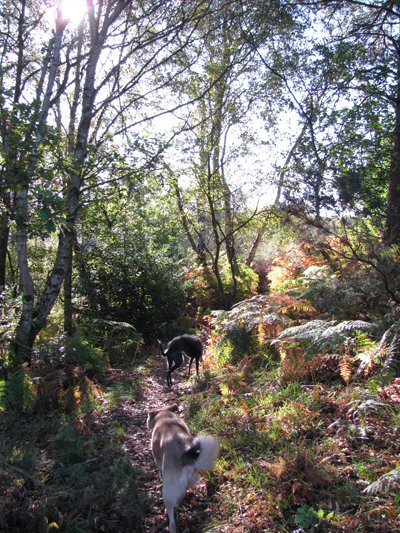 back in an uncut section. two weeks ago this was full of fungi, spotted red fly agaric everywhere, but 2 weeks of wet weather has rotted them away.
very little is left, through that little copse and we are back in the open again. my sheltered winter walk will offer no protection now.
I hope soil erosion does not ensue.
the last time we will wander through these bracken filled glades.
this – all silver birch – is to go ….
these oaks I think will remain
all these lovely old silver birches with their shaggy trunks are doomed
the most graceful tree
and here there are bluebells in the spring – a sign of ancient woodland.
to be reduced to this – brambles and weeds, the new sprouting birch and gorse all removed by weedkiller last year.
I found one remaining fly agaric fruiting body today. with the birchwoods gone and the topsoil removed there will be no fungi – edible or poisonous – next year.
this little heather area has been established for at least fifteen years; soon there will be no birchwoods in the distance.
next to the forestry commission plantation there is still dew on the spiders' webs in the heather.
a nasty shock awaits us – the plantation is going too – here the bronze age barrow has been cordoned off to prevent it being damaged by the machinery.
this beautiful cathedral of tall pines, a restful place of shade and quiet, is already half gone.
huge machines lurk on their day of rest.
exquisite fungi amongst the needles and cones on the floor of the wood.
another area of heather, cleared a few years ago and beginning to grow well, although the gorse will soon overtake it, if it gets a chance.
more silver birches awaiting their fate.
and here is the stump-grinder, an unlovely beast.
I wonder how misguided this effort really is. every so often there are oak trees marked to be left standing. I hope they survive the lack of shelter after the surrounding trees have gone. time will tell.