two days ago this thrush was singing so loudly in my garden I heard him over the Sibelius the radio was playing, and rushed out of my studio to record him.
now we are self-distancing, and in my case, being ten days off seventy, self-isolating, I am spending more time enjoying the spring light, and some of the time sunshine, in my garden and studio, as I'm not off to art groups and writing workshops. I'm very happy at home at this time of the year, the cowslips and primroses are coming up in the garden
I'm not restricting my dog walking;
we have these beautiful violets in the lanes
especially Clip street
and overflowing clumps of primroses, both in Clip street and our moss-lined road, and of course in Cakes lane
the fields have dried out at last, enough for tractors to be ploughing and harrowing on every farm this morning
there is a second later flush of blackthorn blossom
and some oak trees have thickening buds
the chiffchaffs are back in Cakes too, and a yellowhammer in ensemble in this clip, though mostly minus his wheeeze at the end of the classic "a little bit of bread and no cheese" song.
the sun strong enough to compensate for the blast of cold easterly wind today when walking, but not if you are just standing around,
and dazzling in and out of tree shadow
the primroses are not so obvious in the bright light as they are on a grey day.
the pond in the wood is still quite full – I love the reflections of the oak trees that surround it. a strange and spooky scene  ….
we have been walking at Holkham twice a week too – I should say galloping in Bims' case – finding the western side quieter
yesterday there were heavy showers scudding in from the east
making theatrical reflections on wet sand
luckily we weren't caught out by them. it was a refreshing and energising walk
they are fencing off the areas where oystercatchers and gulls nest now
but there's plenty of room for us to keep away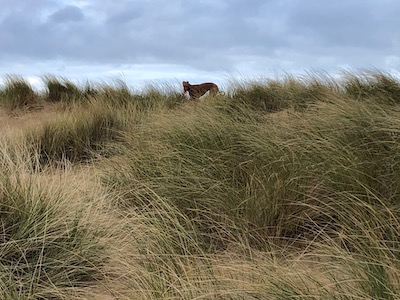 on the foreshore and the dunes. Bims is more settled once she's let those powerful muscles and long legs do what they are meant to.
I had the usual battle with this painting (don't you love the pink chair! from an app which puts your picture on the wall of various unfeasibly smart rooms)
I think I'm quite settled on it now (Hilly with branches, 76 cm x 60 cm). there is something  female and landscapey about it which is all to the good.
now I'm not dragging all the equipment off out two afternoons a week I feel more committed to the studio and have been having a tidy up today. see the crap on the floor under the table –
well now you don't! a wheelbarrow full of ceramics detritus gone into the grey bin.
and some paintings up here instead of in the "gallery" (my old office)
I do love this little one, it was very quick  to do but it's enough and I managed to keep my paws off it somehow. Paintings which have got to the paws off stage are all for sale, just email me from the link on the website www.janewheeler.co.uk – I will have to be more pro-active about selling online, now that Open Studios is cancelled.