on the 5th of January my worldly possessions arrived in Scotland. it was a day of thick black ice everywhere, pavements and the cul de sac road impossible to walk on. I can still see the fibres stuck to the pavement where the removal guys put their blankets down. so then my house was a chaos of boxes, furniture, bed in pieces, the usual. Luckily for me I am in an extended household with my daughter and her husband, so having spent another night with them, we arrived at the house in the early evening the next day and a lot was unpacked, the bed put together (but where were those special bolts? – never turned up)
the view yesterday morning from my kitchen window.
At the same time I was trying to get the studio sorted out (also chaos and desolation, especially as a full pot of acrylic gesso fell down in the lorry and broke open) and the joiner has turned out to be very slow and not exactly perfection when it comes to laminate floors. so I have gaps around the edges in the bathroom, hall and back bedroom, and he has to redo them and take the skirtings off in the process, but not until lockdown is over and I've been vaccinated – which could be months.
very very slowly order is being reimposed. the wonderful thing is that I have these big blank walls to hang big paintings on. the studio now has to have the electrics redone (it was the garage) and then a couple of coats of white emulsion over the OSB board it's been lined with (over kingspan insulation on floor, ceiling and walls) so a lot of paintings are indoors or in a garden shed, as there had to be space to work in there, though luckily the joiner and his mates got the walls, ceiling and floor done before everything arrived, though not the front wall completed. the garage door is still lying in the drive, too big for the skip.
having the paintings indoors has given me the opportunity to reassess, in one case quickly splotch a few brushfuls of paint on – and that may happen to others.
I made an unexpected discovery – the intense deep blue walls in my kitchen enhance this large oil painting, painted I think a couple of years ago. and the painting enhances the kitchen, makes it a conversational space – my long table is underneath it, so I have a dining area with a bit more dignity to it.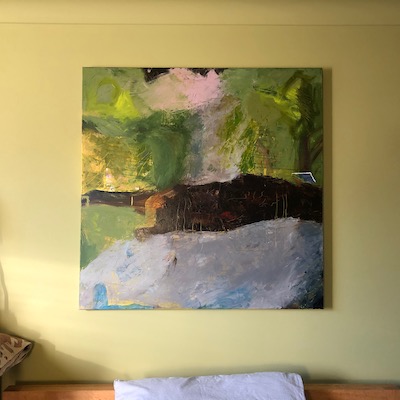 I've hung this painting in the front bedroom, opposite another big oil abstract, which was
started in 2003 but finished about the same year as big blue. it's the first one I put up, it's a natural for a bedroom, sunny and light. lots of texture and craquelure, and thick paint pushed about, then a top coat partly rubbed off, of very runny Swedish linseed oil outdoor house paint, which gives it some almost watercolour-ish runs of barley-coloured paint.
this is the huge painting I did for Cley 2018, and I have ordered a low storage unit from Ikea to go below it so that there is room for it to hang. the pigeon-hole shelves came out of my old studio, but there may not be room for them in the new one. a lot of things are still not sorted out in the living room, the audio equipment for one thing!
this diptych is a good example of how different things look when you bring them into a new space. I had not thought of putting these two paintings together, but I need big pieces in this room, and they speak to each other.
Idris Murphy, one of my favourite Australian landscape artists, talks about the effect of a 5th edge in a diptych, the division between the two sections. it's very interesting.
so I ordered a frame, the widest I could get, luckily the painting is exactly the right size, four feet wide.
this one is just slightly smaller – "The path holds tokens of waking" 120 x 75 cm – and although the two paintings started off separate, they came together early on into a diptych. It hung in my studio, but really not a great setting. put here, it's wonderful, it springs to life!
then this part of the wall, next to the bay window, has become somewhere to photograph smaller paintings
the light is very good and the pale grey walls show off paintings very well
I like this one best
in the hall, which is the same grey, I've made a monochrome arrangement.
the smaller bedroom is a reading room, with an Ikea version of a traditional Swedish farmhouse sofa bed. I love this green so much I am going to paint the rest of the woodwork with it. but probably not until the flooring has been sorted out.the painting I think still needs some work, but I definitely like it there. Of course, technically all these paintings are for sale. it would be nice to sell them so that I could paint new ones for the spaces.
on Friday I went to have a look at this waterfall in Dura Den in Kemback, which really reminds me of the painting.
I painted this one last week after walking along the river Eden. subject of another blog post to come. it's called "How the River Shines Today" – gouache and watercolour pencils over acrylic on heavy watercolour paper 28 x 38 cm, for sale £90 unframed including shipping, as part of #artistsupportpledge a generous culture and dynamic economy between artists and clients needing no gatekeepers dreamed up by @matthewburrowsstudio to help artists continue to make a living during the pandemic. here's the link to my big cartel shop should you be interested.