sea lavender patches the marsh with purple at this time of year, contrasting with the predominant bright green of the samphire standing up across the mudflats.
inland most of the barley has been harvested and the fields tilled, making them sadly drab and autumnal. cold wet weather is holding things up as usual, and there are still a few fields standing, and of course all the wheat, which is not quite ready yet, though the heads are turning down, and if the wet continues I doubt it will be a good harvest.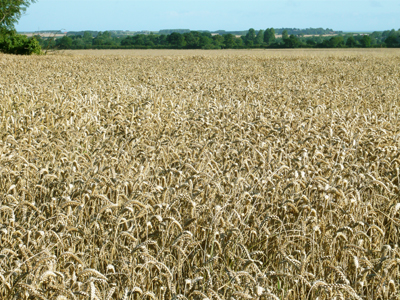 we walked almost to Hindringham and then back early this morning, in the sun, with a blue sky and a strong wind. from parts of the road there are great views of the coast at Holkham and Blakeney. blackberries are forming on the hedgerow bramble bushes; it's a wonderful place for picking them in mid to late September.
the hedgerow is particularly rich, especially in the little valley where a tiny stream, which flows through Bale wood and eventually joins the Stiffkey, crosses the road through a culvert. there is always a flow of water on the surface of the road there, from some spring welling up. a big clump of flea-bane, which I had confused with corn marigold, grows in the damp hedge next to the corner of the stubble field, several stands of meadow sweet and great willow herb line the banks, and alder is a predominant tree.
guelder rose competes with ash and hazel in the hedge, water mint grows in the ditches
and common knapweed or hard head is everywhere along the road. I saw a hare in one of the fields; Tilda smelt it, but what really got her going was a field vole in the middle of the road. she and Sal completely missed its trail through the bank in their excitement.
I am in the middle of Roger Deakin's Waterlog now; an intense evocation of water, immersion in it, and its varying qualities. it's a chilly read, as he skinny dips in river pools and wanders the banks of rivers and lakes, and beaches of Britain in his swimming trunks. I think I prefer the comfort of my sofa to experiencing the real thing, unless the weather improves.
the garden is at its zenith, and the wind and rain means I have been spending some time tying dahlias, sunflowers, tomato and bean plants up with green string. the lilies are at their most intense.
but of course it's not good weather for sitting outside and enjoying them.