it seemed to be preying mantis season last week in Spain. first there was one in the house, then there was one on a rock in a beautiful finca we visited. I had never seen one before.
this place was high up on the other side of the sierra from Al-Manzil, with wonderful views and a hill of granite boulders, a canchal, full of oak trees.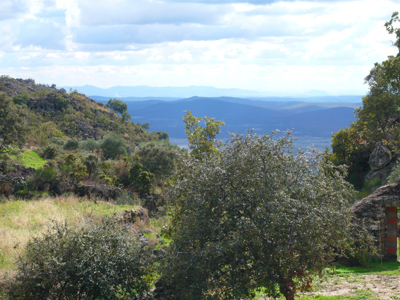 the olives are ripening on my trees. I hope we can harvest them this year. last year they were given a radical prune as they hadn't been touched for over five years, and were in a bit of a state. but they haven't had what the Montanchegans call "the cure" either, so they are just about organic now. ( most olive groves are kept "clean" with herbicida)
I think this butterfly is my old friend the speckled wood, but much darker than the ones here in Norfolk. there are plenty of oak trees around Al-Manzil, deciduous oaks higher up, and cork and holm oak around the house.
These pretty gentian blue flowers look like some sort of cranesbill. but cross-checking between my British Wild Flower Key (Francis Rose) and the Field Guide to Wild Flowers of Southern Europe (not comprehensive and only illustrated with photographs, some without much detail at all), I think it is larkspur, which is an escapee in Southern England, and a wild flower in Spain. the Francis Rose is the best wild flower book ever, very thorough and well illustrated.
this white bell flower I am completely stuck on, I can't see anything like it in either book. it is quite prolific in the open woodland and grazed grass and herbs around Al-Manzil, flowering in the spring and autumn.