the ground is sodden and slippery with all the rain. my new water butt is simply overflowing. I took a bucket out and ten minutes later it was overflowing again.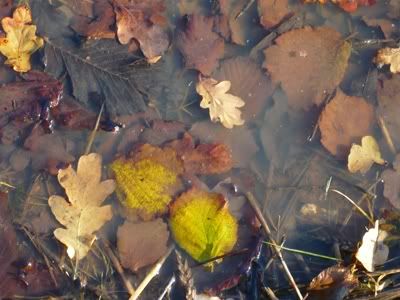 yesterday we went into the wood to visit the beech tree. the beeches are the most beautiful trees in the autumn, their leaves are copper and bronze, and there is a carpet of bright leaves on the floor of the open space the tree makes around itself.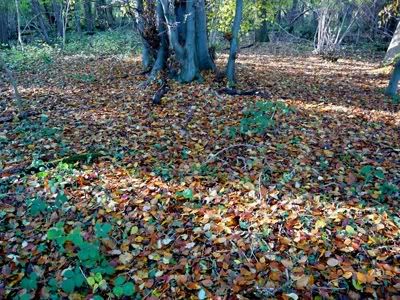 looking up into the canopy the patterns and colours of leaf and branch are inexhaustible.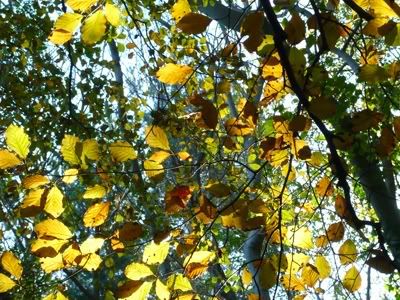 from outside the wood the beech looks as if it is all copper leaves, but the lower branches are still green.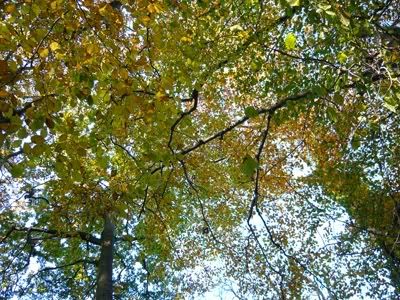 now there are so few leaves one can see into the wood again. I have not seen any deer recently though. probably because there is a lot of disturbance at the moment; the wet and soggy track is being excavated and this summer the big workshop was put up in the corner.
on Cake's Lane the bracken is turning into fountains of satisfactorily russet lace.
the sun was just catching the oaks in Patch Plantation, with their huge horizontal branches stretching across Clip Street.
back in the workshop this afternoon, with the light on, the big press mould is drying extremely slowly, while I am making some smaller dishes using a wok lid covered in muslin. the second one is stiffening upside down, with three little feet attached.
the first one came off the mould this morning, and I pinched it all around the rim to pull it up and give it a good profile, then later combed a spiral into the porcelain overlay. I like it, but it is really a bit tidy for my oeuvre.
this is a smaller mould drying out – using an old thrown bowl I made at college – it has survived the intervening years and gets used quite frequently. I have plans to make more or less spherical pieces with two presses from this joined together.
another new-ish shape arrived late last week.