a few days after Christmas we had an expedition to the local visigoth basilica. it's just above Alcuescar, and is very much conserved and messed about, with a hideous visitor centre. the rainy afternoon we were there it was closed and deserted, which was good, except that we couldn't get into the basilica itself.
an architect has unfortunately been let loose on this building, and marked their intrusion with white and grey marble and other new materials. the white marble is curiously reminiscent of a public lavatory.
raindrops on the lens make the carving on the capital difficult to see, but it is Roman. a nice brick arch above the doorway opposite.
the Visigoths came from the southwest of Gaul and replaced the Romans in Spain in the fifth century, but kept most Roman institutions in place. they converted to Christianity in the late sixth century, so I presume this basilica must be sixth to seventh century. they were driven out by the Moors in the eighth century.
we walked up the road afterwards. the hillsides above here are mostly dehesa, full of cows – and bulls – and pigs, creatures a little intimidating to walk amongst especially with dogs, so we stayed on the road and found ourselves amongst planted woodland of pine and eucalyptus.
climbing higher the only view was towards the sierra de Montanchez. the road is lined with cistus, a scented resiny shrub, which leaves a pleasant residue on your fingers, like gum arabic.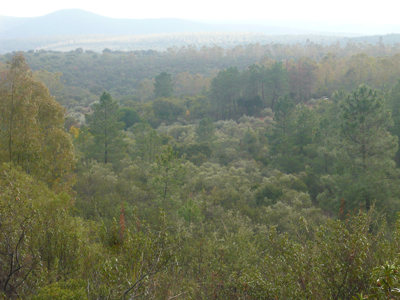 after the rain there were in fact magnificent views in the Montanchez and Arroyomolinas direction.