at last I am beginning to fire the dishes so that they look how I want them. the black clay is still prone to sprawling but in this dish I am quite happy with the split and partial collapse.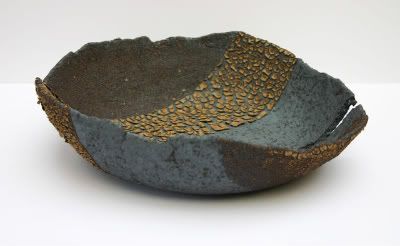 a new title for the band of thicker glaze – on these horizontal pieces they begin to look like pathways, those in the saltmarsh which dry out into patterns of cracks in the summer, so instead of tidemarks, they have become tidepaths.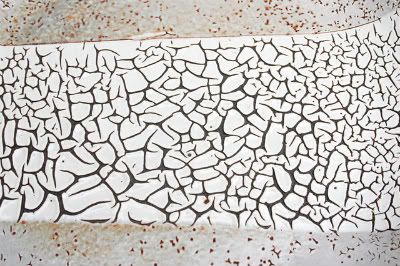 the new flasks with conical necks and round bodies which I have been making from press-moulded parts are proving a little awkward, in that the angle of the neck can become more exaggerated during the firing. the two in this firing emerged unaltered, and the barium glaze has matured nicely over the boring super-white stoneware. I have increased reduction on the last two firings, and it does help this glaze.
this is the only dish of this shape which has kept its original form so far, in my usual grey stoneware, but there are two more  in the terracotta crank in the next firing, which should be fine.
a weekend or so ago I bought an old butter patting paddle, just the thing for paddling my pots. this tall bottle with porcelain overlay shows its effect quite well.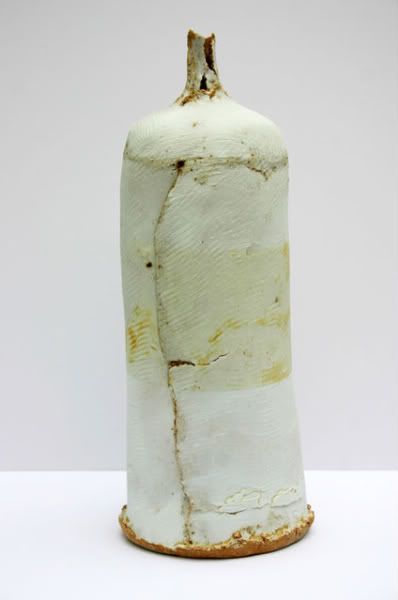 and another little black pathway, or tidepath, flask.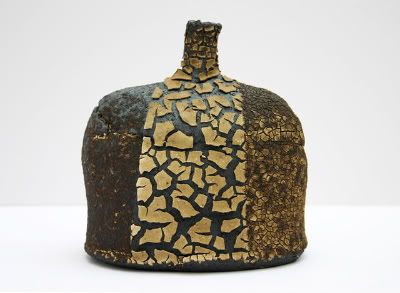 the rest of the firing is here