nearly the end of September and it starts to be dark before the firing has finished, and I suppose soon, when I light the kiln too. the apple trees are loaded down with fruit, I shall have to set up my apple store in the pot store again – a trestle table so that the mice can't climb onto it.
I have spent two weeks making more pots to fill the gaps on the shelves, and most of them went into this firing. not the enormous ones though, I am waiting to replace the arch, which will give me another inch of height.
a thin coat of black iron oxide, making it as dribbly as possible …
a double dip of slip and a double dip of glaze. I seem to have got the right combination now, there was nothing threatening to crack and fall off. it does take two days, because I can't handle them to glaze until the slip has dried, and the second dip of both stages has to wait until the first dip is dry enough to hold the pot. of course I could do it the other way round, dip the bottom first, and then I could hold it by the clean part of the foot … you always need to catch hold of the body of the pot though, to steady it, or to get it the right way up again …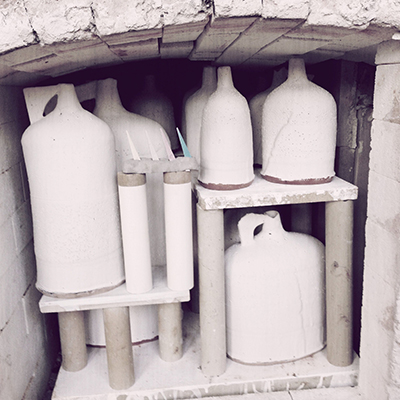 safely packed though very wet – I always worry that I have done something wrong.
lit the next morning ( Friday) at about six am, and starting to reduce by one pm
nice and sooty! I had the pressure a fraction higher, which made it faster, even though the reduction was heavy.
off after reaching 1269C at eight pm.
almost two days to cool down – I opened it at four pm on Sunday.
you can see from the cones that it was hotter, cone ten is right over and eleven starting. also the clay they were set in is nice and toasty from the reduction.
lots of nice blue chun droplets.
and altogether fourteen small pots with successful glazing, six medium sized, and one large one.
the large one got a very thin dip of slip on its top half, allowing the oxide to show through
this is made with the pink grogged stoneware, which I haven't treated with the oxide before – it gives it more intensity.
I think this might have crawled so much because I glazed it for the last firing and there wasn't room, so it has been sitting around for a month. it is one of the old impressed bottles I made last year. the glaze is a little fragile on this one, so I have called it frozen lace.
there are two pots in this firing with this meander pattern, I like it very much,
so much so that I had to quickly make another extra large piece so that I could draw the meander pattern on that too.
combing, on terracotta crank, which works a treat. the pots made with this clay stuck ever so slightly to the battwash on the shelf – 1269 is a bit hot for terracotta crank! lovely and dark though.
and there were lots of beautiful blue bidori droplets in this firing, on the smaller pieces.
altogether I was very pleased with it. you can see all the pieces here