a week drawing – a drawing retreat … but hard work mentally. this was a wonderful experience otherwise only available in the states and I have to thank India Flint and Hat in the Cat for being bold enough to ask Larry to travel to Scotland to teach.
we were an interesting mixture of textile and fine art and ceramic artists/students, most or all of us not allowing these perameters to fence us in.
for myself, I have been lax about keeping my drawing up over the last twenty years, though recently an art group in the village has encouraged me to start up again. but what Larry got us to do was a whole new ball game of mark-making and of drawing from memory and off piste, abstract marks.
he had brought a marvellous collection of pens and brushes, and we made more from canes and aluminium sheeting that he brought
a thing called a cola pen, made with a piece of thin metal sheet folded and fastened to a stick makes thin and very wide lines
a piece of cane or reed with its end hammered makes special marks
bamboo or reed pens can glide or stutter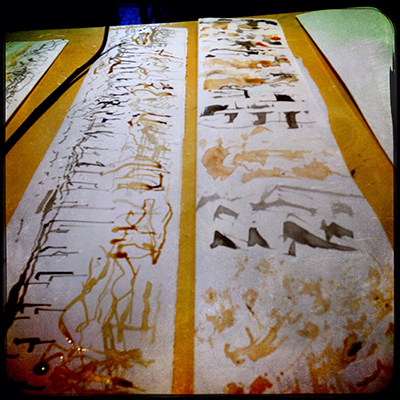 this must surely feed into what I do with clay
(maybe I will move away from the clematis stems I have been relying on)
but what I ended up with was several folded narrow sheets of thick cartridge paper to work more on and make into a very tall accordion book (or one which lies flat on the table its pages making landscape views) related to the river and the reedbeds.
reeds in a whispering curtain, the tide pushing little waves, the light reflecting a different way every hour
and the reed canes, so good for drawing
other students produced wonderful outcomes
I think this origami sculptural book was my favourite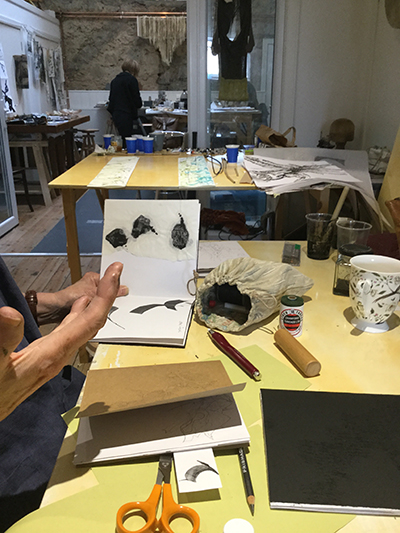 books were popular – stitched
folded ones
inventive use of paper
always with a three dimensional element
we all got a huge amount out of it, and things rubbed off one another too.
I'm not mentioning names because this sort of work is about process and therefore not finished so I'm showing the work as examples of what fellow students found possible, plus I didn't manage to take photos of everything, there were more very interesting things.
Larry will most likely be teaching another drawing workshop next year at Newburgh – get in line! he is the most generous and gentle teacher, and he will turn your expectations of drawing in all sorts of new directions.