I have been off line rather a long time due to losing Tilda to liver cancer at the end of November. She was ill for two months, that is she lost her appetite and a lot of weight. What was wrong gradually became clear through November, and our lovely vet came and ended it for her on the 24th before she had suffered much. So now my walks are a bit solitary, though I take my notebook and scribble fragments of observation.
No more lurcher leading the way down paths and up the road. A time for more writing and thinking, constructing poems, and sending them off to magazines and pamphlet competitions. I am very pleased to report that the independent literary magazine Tears in the Fence has accepted one about Salthouse church which will be in their summer edition, and has asked for more.
You can imagine me sitting on a fallen branch under the beech tree and scribbling in my little book.
When there is light, or even on a misty day when the lights have to be on indoors, the trees, fields and hedgerows are a delight.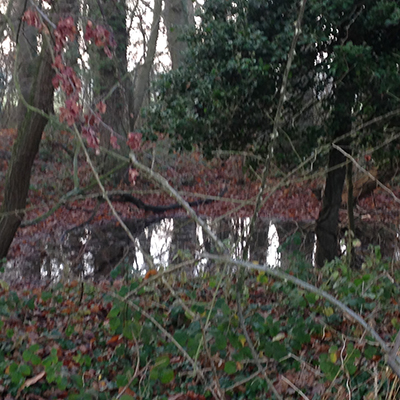 the pool in the wood has filled up again now that the cable trench is filled and the pumping of water from the system of springs has ended
the pattern of branches above it is reflected, the sky a cloudy mirror the trees seem to be peering into,
puddles bring the light down to my feet.
The trees are more beautiful, their branches seem to wave in fluid shapes like dancers' arms,
the nude hedges make graphic designs with their stems through which to look out across fields of winter cereals,
grassy stems holding water drops that refract their bright green to a greyish pastel colour.
Water in the misty air makes every view soften into blue-greys.
Muddy tracks are imprinted with a variety of wheel tracks
irresistible, translatable into two-dimensions.
Greyed down colours need cool underpainting, unlike the bright autumn which I underpainted with translucent earth yellows.
acrylic on canvas 17th december The Track
I was back in the studio for a couple of days before Christmas, then felled by some strange virus. Two recent trips to Scotland and one to Whitby should appear here soon