somehow April has been an odd month, cold and dry, but all I have done for days has been walking, getting fitter again, and making poems from found words. a bit of a rebellion going on there. the first week was in St Andrews, birdsong and family and trees and streams.
back in Norfolk before Easter, the weather was sunny and really quite warm, blossom and flowers everywhere
ash trees still holding back
but plenty of oaks with catkins out.
blackthorn dropping petals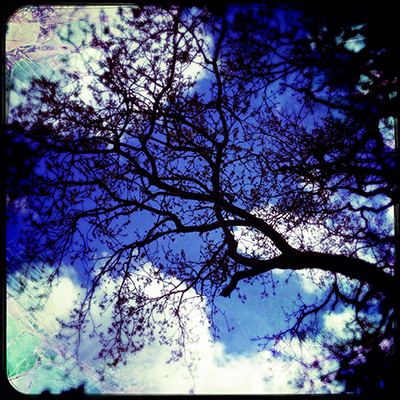 soon the pattern of branch and twig will be obscured
in Bale wood primroses compete with brambles now that so many trees have fallen
sun and shadow painting the lane.
this greenery covers up the ditch that runs from the old moats and fishponds lost in the wood
and inspired a less accurate, more abstracted landscape
really I should make a very small painting like this, but that is what is under
the first one, left without all that copious greenery in the end.
the second playing with layers of paint and marks scratched through and even a bit of oil pastel for some darker marks.
I was quite pleased, but have been a bit stuck for further inspiration
tree shapes are not so easy to make into abstract paintings, even with the brilliant yellow of rape seed crops in huge blocks.
the bluebells are riotous in Bullfer grove
so, I thought I would have to make myself tackle them with paint in some non-traditional way.
firstly the blue has to be under almost everything, although the ground colour is green again, with plenty of medium to thin it.
more layers, more marks made with the palette knife tip
finished, lots of thick blue and thick green paint
popped on with the tip of the palette knife
scraped through with the palette knife
all over layers of thinned down paint brushed on with the biggest brushes I have
a bit of action painting …
looser than before. now I'm feeling braver!