it's been a Siberian week – we are used to these cold easterlies in Norfolk,
but usually they don't bring snow – and are not quite as cold. though I do remember two weeks of wind frost when working with horses on a farm near Swaffham in my mid twenties. carrying water in buckets for forty horses probably started my arthritic neck vertebrae!
yesterday was beautiful, pristine whiteness and sun between snow showers, though starting to drift .. today is grim and cruel, a grey wind full of cold damp blowing at forty miles per hour, and a few places in the village blocked off by snowdrifts
Bimba kind of thought the drifts were fun, but on the whole much too cold for her poor toes …
I've had a burst of painting over the last week, inspired by Betty Krause … keeping a sketch book is something I haven't done for a long time … but I've taken a leaf from her "warm-up" video https://www.youtube.com/watch?v=pOqXB7KB01Q&feature=youtu.be  
things have loosened up and I'm finding the benefit of multi-layering
the brush is back!
and the paint is on thicker
the finished painting – 70 x 50 cm on linen
at one point it looked like this which is pretty scary
also these are now officially mixed media as I'm using crayons and oil pastels. that does sound better than acrylic ….
more sketch book, or "art journal" I think that's probably an american term – going for a walk in the snow showers. I used a stencil for the white blobs, cut from a sheet of newspaper.
and the same day I painted this – snow showers on Monday morning. 60 x 45 cm on board
this was the next day's journal
and stages of yesterday's ….
almost there but the blue too strong
based on this photo from yesterday morning
so today another painting on board
a scary early stage. working with it flat on the table
more work needed on the sky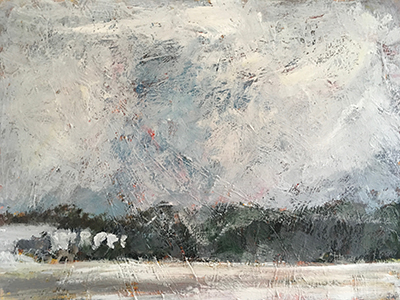 "the great snow sky" 60 x 45 cm
and today's sketchbook
progressed to this … but I think I'm leaving it as a totally abstract thing
more photos to work from – this cloud is wonderful
more of the drifting snow
all very exciting. especially as I can't walk more than to the edges of the village without uncomfortable depth of snow/slippery icy roads/deep drifted snow, and I'm not driving anywhere until things get better. all the more time to paint!