back in Norfolk for a week of rain or mist or fog and a galga with a foot cut on broken glass in newcastle on the way home … then at the weekend at last the veils lifted, hesitantly at first … my garden full of flowers which have raised their heads since the sun came out:
lots of hellebores which have been biding their time in the cold weather …
the grass as usual dotted with cowslips
the blackthorn doing its duty, but so wet last week I'm not sure if any of these flowers will have been pollinated, and now the petals are falling, white confetti …
and the rowan well on its way to flowering.
the hellebores are actually not as full of flowers as they were last year, but there are a couple of seedlings up as well.
at last B's foot closed up enough to risk a walk … she has been belting round the garden so I thought about time to get back to normal. there were two small but deep gashes under the biggest pad of her foot; she's had a course of antibiotics, but the fuss made about saline washes was ridiculous, water all over the kitchen rather than on her foot.
primroses in the wood
although the rest of the undergrowth cleared out by the deer, they must not like primroses
cakes lane has big mounds of them
yesterday a lovely day, sunshine and big clouds
I am inspired for more painting
but still looking at the ground for the wild violets in Clip Street … they are profuse in places
from proper violet colour
to white, and you can smell their sweetness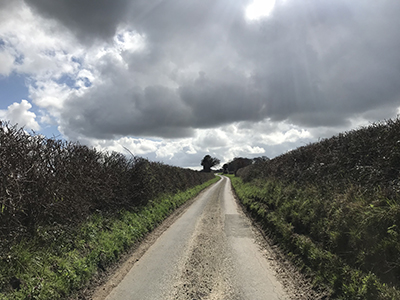 when the wind doesn't blow it away
on the banks
I think B more interested in some mouse or mole here …
the big clouds dominating the landscape
are just what I need for my Cley18 paintings
yesterday was our Village Hall painting group day
I have been watching Lewis Noble's youtube films of painting outdoors in the peak district  so I took a board and  canvas outside and flicked paint and water (treated with flow improver – plain water disrupts the pigments) with a brush.
in the sun they dried very quickly and provide a great background to work into , keeping the paint fairly translucent
now I have a way to get into starting the enormous canvas I have prepared for the final version
I ended up with this on the board, today I'm going to work into the canvas and see if I can take it further with more paint. tomorrow when the wind is less aggressive I will haul the big canvas outside and throw jugfuls of wet paint at it.