a break for family Christmas and I am off again. some good news this week, I have been selected for Hatfield ceramics fair, Art in Clay, 6th, 7th, 8th July, in the grounds of Hatfield Hall. so I have to dust off my tent and find a trailer to borrow – and work out how a space of 4 metres by 4 metres with a couple of tables can be made to show off pots ….
so – continuing from the work I was doing with porcelain, I began by opening a bag of white St Thomas clay – a good almost-white stoneware – sprinkling my dust-to-large-bits-grog on it, impressing oak leaves and the hole-patterned piece of wood.
but recently I saw a beautiful and strange portrait of a woman wearing a high collar of ash twigs, by the Irish artist Alice Maher, and this has got me thinking of how to bring Nature into my work in a symbolic way. my garden is full of bare twigs at the moment; dogwood is looking particularly sculptural.
native dogwood; the twigs are a wonderful red colour.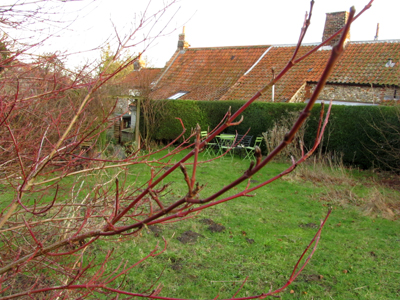 I found an old bag of Southern Ice porcelain (from china clay mined in New Zealand) in just the right condition to be spread over the stoneware clay with a knife – a beautiful surface to impress into.
the twigs embed into it deeply and rupture the slab of clay as it is bent round to make the roughly cylindrical shapes. further bending for an oval base is impossible as the clay is still soft, and won't support independent upright pieces. ( at this time of year there is not much dry in the air and I tend to work with the clay in a softer condition than in warmer weather).
some enthusiasm, and adaptation of working method to to the sticky and slightly floppy  material produced a flurry of new pieces.
softer shapes with more flow to them ..
and at the end, using up cut out pieces which were too small to make a curved wall pot produced a softly rectangular vessel.
this is not quite new; a long long time ago I was strictly rectangular, but this is much softer, and quite exciting. more to come!