today the last firing for FEAST  was sort of unremarkable – after all, it was just more of the same – more or less.
the last four dishes came out as expected, now I know how to manage them. I like this one best, as the tidepath has a different shape.
two more flasks; this one in the terracotta crank and the crawling shino glaze, which is a combination I like very much.
another of the bottles with the porcelain overlay and beaten with the butter pat paddle has come out very well, I think, with the opaque matt pale green that this copper glaze makes with porcelain.
reduction was heavier on this firing than the last three, with a lot of sooting on the kiln where gas escaped and burnt off. I am not sure if it made any difference. I know my glazes and clay bodies work a lot better with reduction all the way from 1030/50C to cone 11.
I have made a mock-up of what FEAST will look like; of course the table is about half as wide, and not even half as long as I intend the table in the gallery to be – and in the workshop I had to find up an old blank and primed canvas as a backdrop.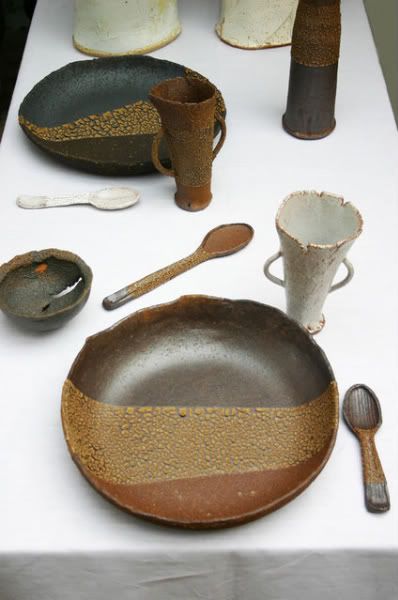 I was worried that the fact that every dish is different would look a bit untidy, but I think as long as there is a table setting pattern to the placing of everything it will read how I want it to.
more images here