post Tilda walks have been more thoughtful and exploratory, but far and few between as I have had a very unpleasant and recurring virus for four weeks, still haven't got my sense of smell back. it's really knocked the stuffing out of me and next year I will be getting the flu jab, no more cocky "I never get flu or colds"
before it really got going I had a day drawing and painting at our village hall art group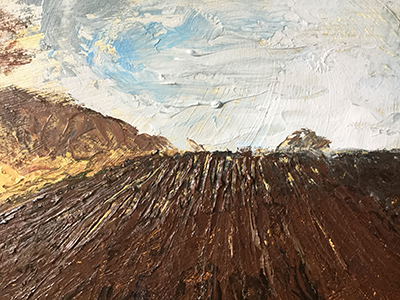 working from a December photo (usually I get enthused about a very recent image)
cropped into a small rectangle of MDF 12″ x 16″
then I missed one week and the next week was a holiday week anyway, thank goodness, so I didn't miss anything. at this time of year, when my studio is cold, even with the woodburner, the village hall Monday group is a lifeline.
we had some very grim cold weather, but perhaps it just felt worse with a temperature and a sore head!
just over a week ago I thought "I've got to beat this" – the weather was really quite balmy for a couple of days; I got a hundred snowdrops "in the green" and planted them over Tilda's grave to join the many hundreds already in my wild garden,
along with the aconites under the old plum tree.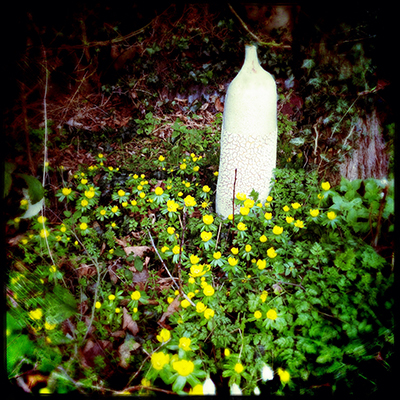 the mistle thrush was singing every morning, and it was beginning to feel like spring.
I ventured out for a long-ish walk – in fact more or less my usual circuit, but through the wood instead of around the edge – it did turn out to be far too far for my wobbly legs, but it was worth it.
everywhere pretty wet
a roe deer slipped away, I just saw her creamy hinder end, and thick winter coat
ivy and holly keep the wood a little warmer, but the ivy is all browsed off by the deer as high as they can reach.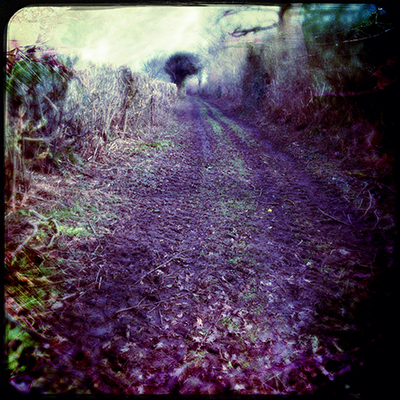 it was a shock to find the lower half of Cake's lane completely flayed. it seems three times as wide as before – one side had not been done for a very long time. they cut it every three years, and it is necessary, the brambles and blackthorn would end up blocking it. and we will be able to see the primroses properly in the spring.
although a bit bald, a great subject for a painting – the white light looking through the holly tree, and the way the pale ripped stems of the hedge interact tone-wise with the dark tree and the lighter deciduous trees around it, and lots of texture. and the dark right-hand foreground trees in the hedge, all made mysterious and translucent by the hipstamatic app I use to take a lot of these photos.
the ground lattice-patterned by the tractor's wheels too.
halfway through ….
I might just need to put a bit more lattice-y stuff into the bottom righthand corner.
yesterday I went into the woods again, not so far this time, I didn't want the virus to come roaring back now I'm feeling so much stronger.
a grey day, but it's a magical place
if you meet the gamekeeper it's shooting land – but he's been quite polite to me when I've run into him, even with two dogs in tow.
once the village kids played in here, and in living memory it was common land, appropriated by the local landowner to plant these oaks.
the track here is strictly "private" but I blatantly walked down here.
the old pheasant pens and feeders are this end of the wood, but I don't see any signs of rearing birds here these days
looking out across a field to where the woods expand across to "Botany Bay", full of roe deer and red too …
deep ditches; springs start on the gravel ridge that is the beginning of the Holt Cromer Ridge, a huge terminal moraine from the last Ice Age which gives North Norfolk its heaths and hills.
the focus of my next painting will be this entrance to the wood with its misty light and huge willow tree.
at this viewpoint it's a black hole, but those trees are very exciting.
it will take a couple of charcoal drawings to get to grips with it I think; I'm looking forward to Monday.