as Walter Scott put it. I was privileged to get to some of it yesterday – my daughter took me to Glen Feshie, near Aviemore, where there has been a project in place for 20 years to enlarge the relict Caledonian forest there, by private landowners who are rewilding a shooting estate, bringing back the natural habitat by excluding sheep and restricting the numbers of red deer.
the ancient Caledonian forest consisted of quite open woodland, of native trees, principally Scots pine, plus rowan, birch, aspen and juniper, which formed the westernmost outpost of the boreal forest in Europe. It is estimated to have once covered 1.5 million hectares as a vast primeval wilderness. millennia of deforestation by humans has reduced it to a few spots in the highlands, overgrazing by sheep and red deer has prevented regrowth, and the remaining pine trees, (often four hundred years old and more, called granny pines) have been marooned amongst heather and grass. Luckily this habitat can spring back to life on its own, given the right conditions.
We drove from Fife up the A9, diverted into Dunkeld for a swift bakery raid, and parked as far up Glen Feshie as you can get, Auchlean car park, at the top of this excerpt from the OS explorer map.
Feshie is wide and open, flat bottomed with paths that wind along through heather, probably bog, we saw some cotton grass patches –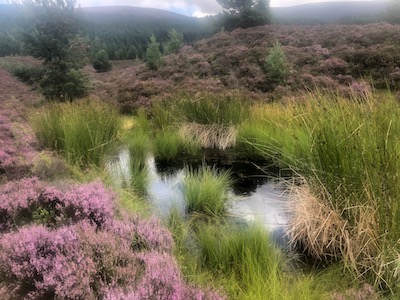 with this lovely pool next to the path
three kinds of heather, blaeberry,
the sharp red crowberry, or as it is in Ikea, lingon berry, mosses, and iconic wildflowers
like this devil's bit scabious, noticeably smaller and a darker purple/blue than field scabious.
as soon as you go through the gate that keeps the neighbour's sheep out, there is a ford to cross. just deep enough to wet barefoot walking shoes if you missed a stone.
it was about midday so we retired to this larch grove, out of the quite strong wind, to eat the wonderful baked goods from Dunkeld, and wash them down with coffee. there was a spooky hooting sound you could persuade yourself was some sort of owlish bird, but I think it must have been tree rubbing against tree in the wind.
here is one of them, a danish pastry (but so crisp!) with gooseberries, almonds, and elderflower syrup. eaten while sitting on a tuffet of rather damp moss.
the next adventure was a hair-raising part where the old path had been swept away at least four years ago
and the new path wanders right to the edge of this unsupported cliff of loose stone and earth
having scrambled down that, there is another ford to cross, a bit more daunting than the first, over or through, the Allt Garbhalach. (in the Guardian Country Diary for 28th of July this year there is a description of following this stream up to a hidden high valley, Coire Garbhalach)
we managed the balancing act, me with much waving of arms, and Bims just splashed through, wetting Lucy's barefoot shoes quite well. then a high bank to scramble up on the other side, and finding a way to traverse another section of missing path.
after that the path took us through Coile an Torr, (forest on a hill) a smallish pinewood, probably a plantation as the trees are all the same age,
full of these elegant feather-like ferns, which are hard fern, and quite common in the west of England as well as here, but I had never seen them before.
on the other side of this wood which is quite steep in places, there are older Scots pine, "granny pines"
you can see they have grown up in an open landscape by their spreading shapes
the path leads us out into open valley bottom or river floodplain again
there are many recognisable grassland flowers, like this bedstraw, clumps of harebell
I had to look this little white petalled flower up – it is sneezewort, Achillea ptarmica, related to yarrow.
the river Feshie meanders across its winter courses, but it's not a true slow meander in the wandering sense.
you'd think you could walk across all those pale grey stones (schists, or metamorphosed limestones, mudstones and sandstones) but it's a highly active gravel river bed and the braided channels are turbulent with strong currents.
the results of past storms and winter spates are there to see.
the path takes us into a savannah like open woodland, with huge old pine trees standing amongst their seedlings.
this is real Caledonian forest
with huge wood ant nests
and junipers in between the pines. we were sad not to spot any red squirrels, or pine martens, (less likely) or capercaille (highly unlikely). I did think we might have seen an eagle or heard ravens, but there was not even a buzzard about.
there are grassy meadows full of dark brown ringlet butterflies, and wonderfully we did see a pearl-bordered fritillary, a speciality of this kind of habitat in Scotland.
it is another fritillary, like the silver-washed that you now see in Norfolk, that needs violets for its caterpillar food. Much darker and a bit smaller than the silver-washed. it's very skittish and we couldn't get near enough to it for long enough to photograph it, this is stolen off the internet.
I have been drawing in a small readymade notebook all the way, mountain shapes and tree shapes …
very quickly, so as not to get left behind
the triangles are a great simplification of young pine trees
drew in the car on the way there too –
I now have an ambition to find somewhere to stay close to or in the Glen, to paint outdoors there for a few days.
Idris Murphy should go there to paint! there are some extraordinary trees
their bark is deeply sculptural – a habitat in itself.
we passed the Ruigh Aiteachain bothy (that might mean next to fast running water and abounding in sloes) where you can stay for free if there's room, but need to bring everything except a tent – bed, and food – the four miles from the car park. so I don't think that's an option for me with painting gear to carry as well. it's very nice, recently done up with a kitchen, wood burner, and 2 rooms to sleep in upstairs. the ablutions are outdoors and probably don't include running water – well, I imagine compost loos would be better for the environment; there are two stone built cubicles away from the bothy itself.
we find a fallen tree to sit on for our picnic
it is silvery with age and has a flora  and no doubt fauna all of its own.
B jumps up to be up high where she can see what's coming and going. it's drier than the moss tuffet, surrounded by soft puffy hummocks of grass with ringlets flitting.
there are three hills and the glen turns to the left,
but four and a half miles is far enough for us – another half a mile past the bothy
we come to the edge of the Feshie's gravel bed and look across.
the OS map has these two hills where they slope down into the glen as Sròn na h-Iolaire and Sròn Díreachain – Sròn being a nose. Glen Feshie continues to narrow up to the left, and the gap we can see from here are two tributaries, Allt Lorgaihd, and Fionntag Burn.
so here we turn round and walk back to the car park, repeating our scramblings and splashings in reverse. enjoying all the views from a different angle. I run out of sketch book pages.
key species – red squirrels, pine martins, rare sawflies, ospreys, wood ants and black grouse. European beaver, wild boar, lynx, moose, brown bear and wolf would once have been here, and there is discussion ongoing about reintroducing lynx. beaver have already been reintroduced to the trossachs and have spread to much of the south – will they come up into the Cairngorms too? as well as several notable species of birds – the capercaillie, crested tit and the endemic Scottish crossbill. I imagine we probably heard crested tit subsong without realising it, birds being generally pretty quiet in August.