opening up the kiln yesterday morning was a little upsetting, I found I HAD overfired it (let cone 11 bend all the way over) even though the pyro only said 1256 C, as five of the porcelain bottles had stuck to the shelf, and the black copper matt glaze had turned runny.
I have annotated the photo with red arrows pointing to two of the pots with little black pools around their bases. luckily a few taps with a chisel and mallet took them off the shelf in one piece.
the silicon carbide shelf seems to cause this frothing which is very weak and easy to grind off. here is the same pot tidied up somewhat.
the shelf is also damaged and will need the grinder applied.
this is the whole firing assembled on my work table, apart from one of the cone vessels. there are so many of the porcelain bottles it is hard to pick out the best.
the tall pieces with flared tops are all in the David Leach porcelain, it is not as blue-white and translucent as the Audrey Blackman, which I prefer. handling qualities are about the same, pots made in both split when drying for no particular reason, but the split  stayed the same size and glazed over I rather like them.
the textures that I have scored or impressed into the porcelain work much better with my dry barium glaze, and on the AB porcelain it picks up the green shade from the copper volatiles during firing, to give a colour a little like the blue-green of an iceberg. this pattern is from a natural fibre nail-brush stamped over the clay.
I fired two replacements for the black cone vessel which cracked, one with no glaze, and one with glaze inside and outside. there was no problem with either, so I think Valentine's remark about not glazing the clay was really not justified, and that it was the fact that the inside was unglazed which caused the cracking. I have had a pot do that before, but a very long time ago, when I was still testing a lot of glazes out. here is the glazed one.
the rest of the pictures are here
also I have revamped my soozwhippet site and made links to recent pots and knits on it, which you will find here
the field poppies are starting to flower in my garden; there is a big patch of them where the ground was dug up to replant the fig tree.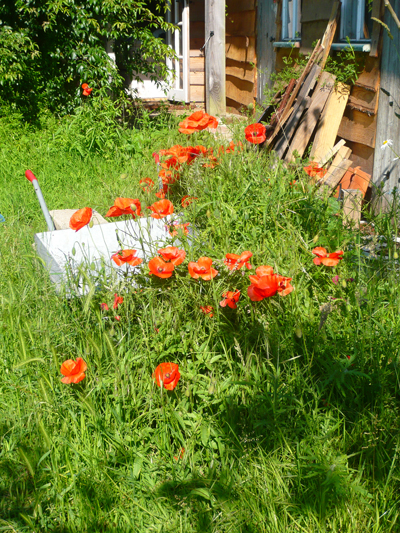 the bees seem to like them; here is a bee on its way to take nectar from a poppy head – a little blurred, too fast for the camera.