it's the season for acid yellow fields. there aren't as many here as usual, it shifts around, but it certainly grabs one's attention.
in fact I can't smell it this year, the virus that laid me low also removed most of my sense of smell, but I remember the sickly sweet stink of it.
having painted the bluebell wood, I started wondering how to approach these landscapes, now all vibrant green with fresh leaves effervescing out of hedgerow and wood, studded occasionally with the strident yellow.
all I could come up with, it seemed, was yellow. completely abstract. in fact there are several layers here, and I have done quite a lot of mark making which is under the final coat of yellow; the layer under it is gold … small canvas, 30 x 30 cm. there's safety in smallness, apparently. well, for a start, the canvas is not so expensive if I fail!
emboldened by this one I started a few more. I should explain that I stopped painting in around 2003 partly because I wanted to work in a more abstract way, but I couldn't work out how to. so the pots were my abstract paintings, the glazes did it all for me.
since I started painting landscapes I have learnt so much about working with acrylics rather than oils, how to handle small scale, and transferred intuitive mark-making from working on clay to working in paint.
so now I have the skills to play with. I'm using water soluble wax crayons as well, so one could call this mixed media rather than acrylic.
the paintings are still very much about landscape.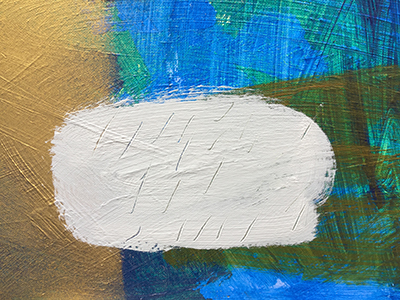 a detail before this one was finished – it's bigger, 50 x 60 cm
it is improvisatory, quite scary, feels like stepping over a cliff edge, but things start to come together and make sense as they build up.
I'm still paying attention on my walks
lucky enough to catch this holly blue in the little bit of warmth we had on the bank holiday
I don't know if this abstraction is going to be total
here's the second stage for another small one
but it might encourage me to put the paint aside for some time and come to terms with my ceramic practice.
in the mean time there are a few more canvases waiting in the workshop. and in three weeks I will have some thing to divert my attention – I am adopting a Spanish Galgo, found on the street, among so many thrown out after the hunting season. she is somewhere between a whippet and a greyhound, and will be arriving with a van full driven all the way up from Galgos del Sol in Murcia in the south of Spain. I hope the next bank holiday weather is warmer, otherwise she might need a coat.